Nelson Mandela Day - and I Missed It!
By Daniel New
Well, drat!  I missed it.  Nelson Mandela Day, 18 July.
Note to self: "Mark your calendar for next year."
According to Secretary General Ban Ki-moon, "Nelson Mandela gave 67 years of his life to the struggle for human rights and social justice," Mr. Ban continued. "The United Nations joins the Mandela Foundation in asking people around the world to devote at least 67 minutes of their time on 18 July — Mandela's birthday — to a community service activity." 1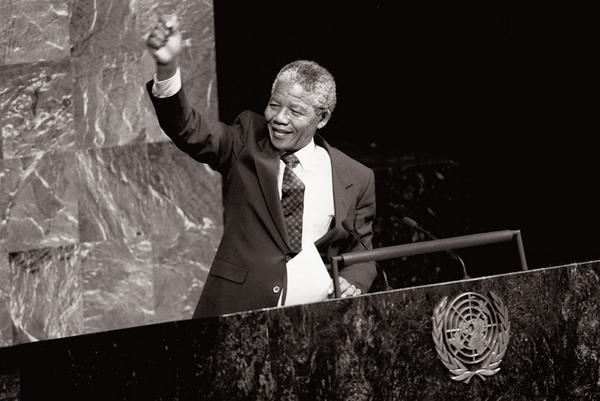 Nelson Mandela, then Deputy President of the African National Congress of South Africa, raises his fist in the air while addressing the Special Committee Against Apartheid in the General Assembly Hall. UN Photo/P. Sudhakaran
Mandela died in 2013.  At his funeral, South African President Jacob Zuma said, "Our beloved Nelson Mandela, the founding president of our democratic nation, has departed.  Zuma's corruption is famous, and he proves his dedication to "democracy" by singing "struggle songs" about murdering white South-Africans and Afrikaners.
The truth is, Nelson Mandela was a committed communist all his life.  He and his wife, Winnie, were racist terrorists, nothing more.  But he served his communist handlers well.  Joe Slovo was the Russian KGB agent who "advised" Mandela and who helped turn him into a legend.  Slovo did a good job!  And the rule of law was exterminated in the great country of South Africa, replaced with brutal tribalism and central planning and a campaign to exterminate the while population — ongoing now.  (Marxism thrives on chaos, out of which they claim will emerge a higher social order.)
Winnie Nelson was nothing less than a murderer, however uncommon, encouraging her followers to "necklace" her enemies — that was her little joke about how they would place a tire around the neck of a political enemy, fill it with petrol, then light it and watch them burn to death.2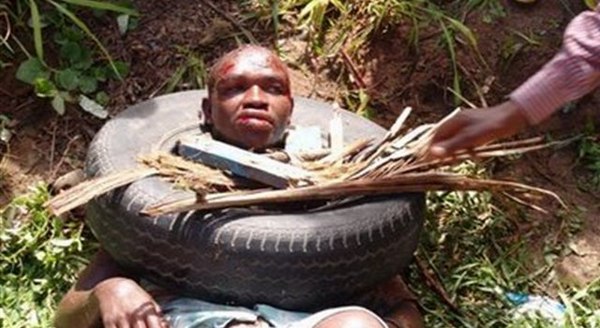 South Africa was not a perfect country.  It had many problems, but it was a prosperous country, and was making progress in solving many of those problems.  That progress was interrupted by the "progressives" like Mandela and Slovo, who were committed to bringing a campaign of death and destruction, terror and racial genocide unlike anything ever known there before.  The African National Congress ought to sell costume jewelry that makes a real fashion statement: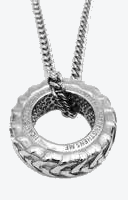 For the United Nations to honor a revolutionary like Nelson Mandela is proof-positive that the U.N. is committed to the world-wide revolutionary struggle of giving us a New World Order that is anti-freedom, anti-white, anti-American, and aims toward a one-world government dominated by the platform of Karl Marx.  But, then, what can we expect from an organization founded by a motley collection of Marxists, Socialists, Utopians and Dreamers for the sole purpose of setting the stage for a one world government?

Ban Ki-moon knows better.  But he's in on the game, just as is every American president elected since 1960 is (with the possible exception of Reagan). 

If this makes me a conspiratorialist, then so be it.  How can it be anything else, when the press consistently promotes the Nelson and Winnie Mandela fairy tale?  When our text books rewrite history completely in order to slant it to fit the political correctness of our day, it is no accident.

Next year I'll try to do better.  And even though it's late, this year I have dedicated more than 67 minutes to community service by writing this article exposing the worst thing that has ever happened to South Africa — Nelson Mandela.